Appnimi Password Unlocker is a All-in-one free tool to recover password of different type of protected files including ZIP, RAR, PDF, XLS, XLSX etc. It supports both Dictionary and Brute-force password recovery techniques allowing user to recover easy as well as complex passwords.
For ZIP and RAR type, after recovering the password it will extract the files to a destination folder. For other types it will keep the unlocked version to the destination folder.
New version v2.0 adds the 'Multi Session Password Recovery' support which allows you to pause the password recovery operation anytime and continue later on. You can also save & load the existing configuration without specifying it each time.
It works on wide range of platforms starting from Windows 98 to latest operating system, Windows 7.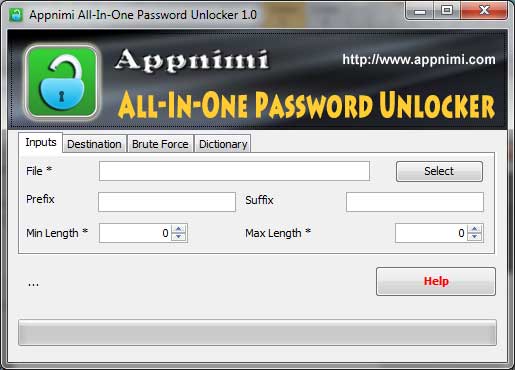 PasswordUnlocker is easy to use with its simple GUI interface even for beginners.
Here are the brief usage details,
1.Run "Password Unlocker" after installation by clicking shortcut on your desktop.
2.Enter or select the path of the file whose password is to be recovered.
3.Enter the optional prefix or suffix parameters.
4.Enter the minimum and maximum length
5.Select Brute Force or Dictionary method
6.Enter the possible characters (Brute-Force) or path to dictionary/wordlist file (Dictionary method).
7.Click on Start to begin the password recovery operation.
During recovery operation, you will see the status of operation at each stage. More complicated the password, more the time will be taken.